Blues Relegate Boro, 3 Pts from Title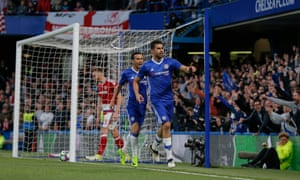 Chelsea took another step to lifting the Premier League crown as they comprehensively defeat Middlesbrough, 3-0 at Stamford Bridge. Diego Costa opened up the scoring by placing a shot through Brad Guzan's legs. Marcos Alonso would double the advantage after exploiting space down the left. Nemanja Matic would score Chelsea's third through an elegant passing play from Blues. With this defeat, Middlesbrough confirm their relegation
Antonio Conte is forced into a change in his usual lineup as N'Golo Kante is unavailable due to a thigh injury. Thibaut Courtois remains the top goalkeeper with Cesar Azpilicueta, David Luiz and Gary Cahill providing defensive cover. Marcos Alonso and Victor Moses patrol the flanks with Cesc Fabregas tapped to partner with Nemanja Matic in central midfield. Pedro, Diego Costa and Eden Hazard spearhead the attack in a 3-4-3 formation.
Chelsea can almost smell the championship and are chomping off the bits to seal the 3 of the 6 points needed. Cesc Fabregas seems to be revel in being given the start and immediately repays Conte's faith with an exquisite pass from deep that finds Marcos Alonso unmarked in a forward position. He tries for a shot on the volley but Brad Guzan looks to have gotten a touch on it. It wasn't convincing though as the American goalkeeper managed to divert it to the crossbar.
Fabregas tries to make an impact with his forays into the penalty area. Diego Costa was leading the charge of a counterattack when he released Eden Hazard down by his favored left flank. As he reaches the byline, he spots the late-arriving Fabregas and sets him up brilliantly with a perfectly-weighted cutback as the midfielder arrived into the penalty area. He tries to guide his shot towards the far post but over hits the mark and drags his shot wide instead.
Middlesbrough was so kind to build Hazard a highway that he could freely move around in at the left flank. Cesar Azpilicueta releases Hazard down the left side with no one even close to the Belgian. He almost casually rolls a pass which ran across the face of goal towards the trailing Costa. But George Friend was there to match Costa's run. Though he was at the wrong side of the sequence of play, he managed to do enough to make Costa lose his balance and prevent him from getting a boot in for an easy goal.
The Boro must be real estate tycoons with the amount of land they've bequeathed Fabregas as they prepare to depart from the Premier League. The magician himself reveled in the space given and chips a pass over Fabio towards Costa. The Spanish striker manages to control the ball deep into the penalty area prompting Guzan to close down the striker's space. But Costa was a cool cucumber and calmly slots a shot on goal past Guzan's legs for the opening.
Azpilicueta recycles a playbook he used early and merely substitutes Hazard for Alonso. Cesar Azpilicueta targets Boro's weakness defending the left flank by releasing Alonso down the left hand side with another long ball to set up another one-on-one between Alonso and Guzan. This time around, Alonso drills it towards Guzan's thigh allowing it to bounce towards goal, earning him a modicum of revenge for sabotaging his first minute effort.
Chelsea try to switch things up this time by attacking the right flank. With his land grant from Boro still not revoked, Fabregas spreads the ball over to the path of Victor Moses who speeds past his defenders directly towards a collision course with Brad Guzan. The Nigerian lets loose a low shot but Guzan seemed to have fully regained control over his legs and gets a comfortable save with his lower appendages to deny Chelsea a complete burial in the first half.
Pedro hasn't done much but his excellent footwork at the edge of the area almost put the entire Boro defense in orbit. The former Barcelona star probed for a way in but only encountered a Great Red Wall that was slowly trying to stifle him. He manages to find Alonso down the left with the wing back poised to double his goal tally. But could not get the shot on target but it was still within Costa's reach for a possible tap in. This time, Costa had a body in Ben Gibson in front of him to prevent him from reaching the ball.
Chelsea's intricate passing leaves Middlesbrough in catatonia. Eden Hazard play a one-two with David Luiz before bringing it wide to Fabregas at the right. Fabregas then performs a delicate chip towards Nemanja Matic who deflty controls the ball with his chest, allowing him to get past Marten de Roon and get a clear sight on goal. He unleashes a low effort, which again hits one of Guzan's feet before rolling towards goal for their third goal.
The last time Middlesbrough beat Chelsea away was back in 1975. Chelsea was relegated that year as that defeat allowed London rival Tottenham Hotspur to climb past the Blues in remaining fixtures of the season. The Boro were three points off the league leaders Everton, a cruel irony given that this defeat does relegate Middlesbrough while Chelsea are only 3 points off from sealing the league title. West Ham will attempt to derail Chelsea's party plans this weekend, just like how they hammered away the Spurs title challenge.